Preble Park
** Please remember the PARK is GARBAGE IN and GARBAGE OUT--- if you bring something in with you PLEASE take it out with you.
     ** RESERVATIONS FOR THE 2021 Season will be accepted on and after JANUARY 1, 2021. The sooner you send them on January 1, the quicker the response and better chance for  securing that date.
*Please note Speed Limits Signs, Areas where Vehicles are permitted, and CHILDREN at play. The safety of everyone is our priority. Also the ground is soft in places, please be considerate of this in your activities.*** 
For more information contact the Town Supervisor James Doring, 607-749-3199 or email rec@preble-ny.org
If anyone wishes to use the town park Pavilion, Softball Field or Baseball Field, please fill out the "reservation request form".  (Reservations are not complete until you are contacted by phone, email or both and your required deposit is paid.) Please note there are some changes made regarding the deposits and forms. The reservation representative will contact via email and a phone call for confirmation. Your request is placed on calendar to show date is being reserved.  Questions please call James Doring.
Reservation Request Form
---
---
Dwyer Memorial Park
Little York Lake Road
Phone: 607-753-9377
Hiking Trails, Wading Pool, Boat Launching, Ball Diamonds, Play Ground, Pavilions to rent
Owned by Cortland County
Home of the Cortland Repertory Theatre(CRT)
---
Heiberg Memorial Forest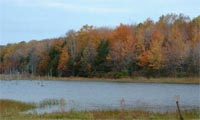 The SUNY College of Environmental Science and Forestry outdoor classroom and experimental station is open to the public for hiking, biking, skiing, snowshoeing, and fishing. There are over 20 miles of trails (unplowed roads, fire lanes and unmarked trails) and 3 ponds. 
Annual Christmas Tree Sale: Every year, cut-your-own trees are available at Heiberg Forest from after Thanksgiving until just before Christmas. Species include Douglas fir and balsam fir. Bring a non-mechanized saw—chain saws not permitted—or borrow a saw from the Heiberg staff (deposit required). $25 per tree (any species, any size). See Christmas Tree information.
Directions: I-81, Exit 14. Turn east onto NYS Route 80. Proceed into the village of Tully, through traffic signal and turn right at the first street (Railroad Avenue). Continue to stop sign, turn left and then right to cross the railroad tracks on Grove Street. Proceed south for approximately 1.8 miles to Maple Ridge Road, the forest entrance. The forest office and classrooms are located 1.25 miles south on Maple Ridge Road. Parking areas are located on Maple Ridge Rd. at trailheads. See map.
For more information, call the Forest Properties Office at 470-6893. 
---
New York State Boat Launching Site

Friendly Shore Road, Tully Lake

Public boat launching for hand-held boats only. This is the only public boat launch on Tully Lake and premises are owned by the State of New York. Open for ice fishing in winter months - premises are plowed. 

Directions:
From the south: I -81, Exit 13. Turn right onto NYS Route 281. Turn left onto Song Lake Crossing Rd (approx. 1 1/2 miles). Take 1st right onto Saulsbury Rd (1/2 mile). Take 1st left onto Friendly Shore (.2 mile). 
From the north: I-81, Exit 14. Turn left at end of ramp, and turn left again onto Rt. 80. Turn right onto NYS Route 281 and go 2 miles; turn right onto Saulsbury Rd (1/2 mile). Take 1st left onto Friendly Shore (.2 mile).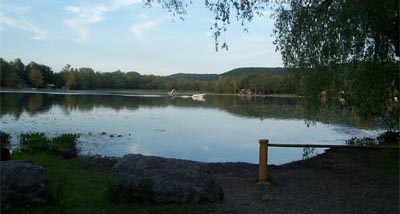 Route 281, Preble, New York 13141
Basketball Courts, Ball Diamonds, Playgrounds, Pavilion
Sponsors: We currently do not have teams. If you have a child interested please contact Homer  or Tully Recreation. Questions please contact Renee Compton.
Girls Softball, 7 - 11 Years and 12 - 18 Years
Boys Baseball, 7- 12 years and 13 - 19 Years
For more information contact Recreation Committee Chairman Renee Compton, 607-423-3991 or email @ prebleparkyouthprogram@gmail.com